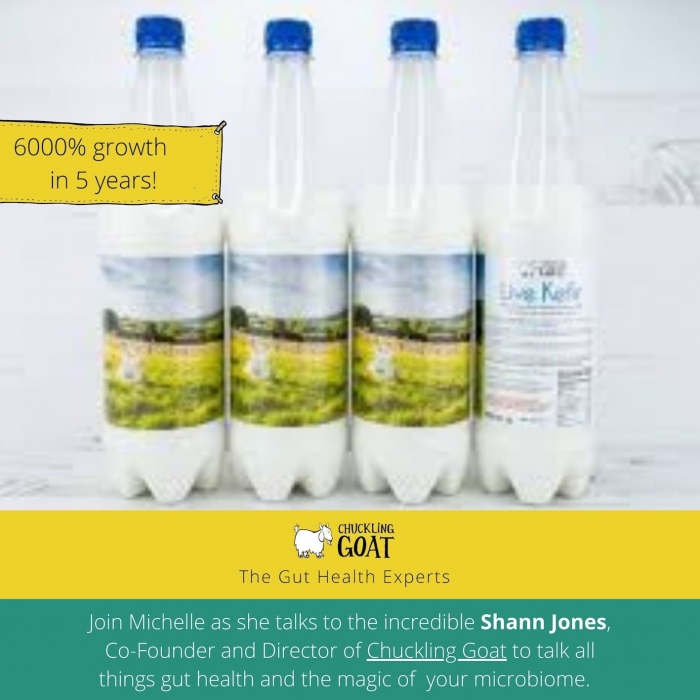 Sunday 31st January 2021
By Michelle Hammond
Join Michelle as she talks to the incredible Shann Nix Jones, Co-founder & Director of Chuckling Goat - a company that has experienced a 6000% growth in the last 5years.
As the number one UK producer of kefir and leading gut health experts The Chuckling Goat, have come a long way in their mission to help people. The family focused company, born out of a mother's desire to help her son, have grown massively from the small kitchen table business it once was.
Now shipping internationally to over 200,000 customers in 56 countries around the world, they offer a range of gut health solutions, including award winning goats milk kefir, kefir skincare and therapeutic herbal teas.
Recently teaming up with Atlas Biomed they now also offer home microbiome testing along with free advice from their in-house team of nutritional therapists.
Listen to Michelle as she chats to Shann and get top tips on how to make your gut happy and inspired at the incredible grit and determination of this extraordinary women.
To watch simply click [DOWNLOAD RESOURCE] to be taken to the Vimeo video page.
Got a Question?
Whether you're looking for self-care advice, need help to get you or your team trained, or seeking help to create dynamic white label or co-branded health and wellness content, we are here to help. Do reach out.
Sign up for our newsletter